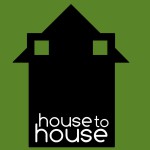 If you're looking for an informal way to discuss the Bible and deepen your relationships with people, then you might consider joining a House to House group. Every week, House to House groups meet at the church or in the homes of folks from Dulin's Grove. Their purpose:
1) to grow spiritually,
2) to grow closer together,
3) to grow the body of Christ.
Currently, there are two active House to House groups:
Dulin's Grove Church
Wednesdays, 6-8pm
(come at 6pm for potluck dinner, 6:30pm for Bible study)
Boston's House
Thursdays, 7pm
9450 Surface Hill Road
Mint Hill, NC 28227
"Day by day continuing with one mind in the temple, and breaking bread from house to house, they were taking their meals together with gladness and sincerity of heart …" 
-Acts 2:46