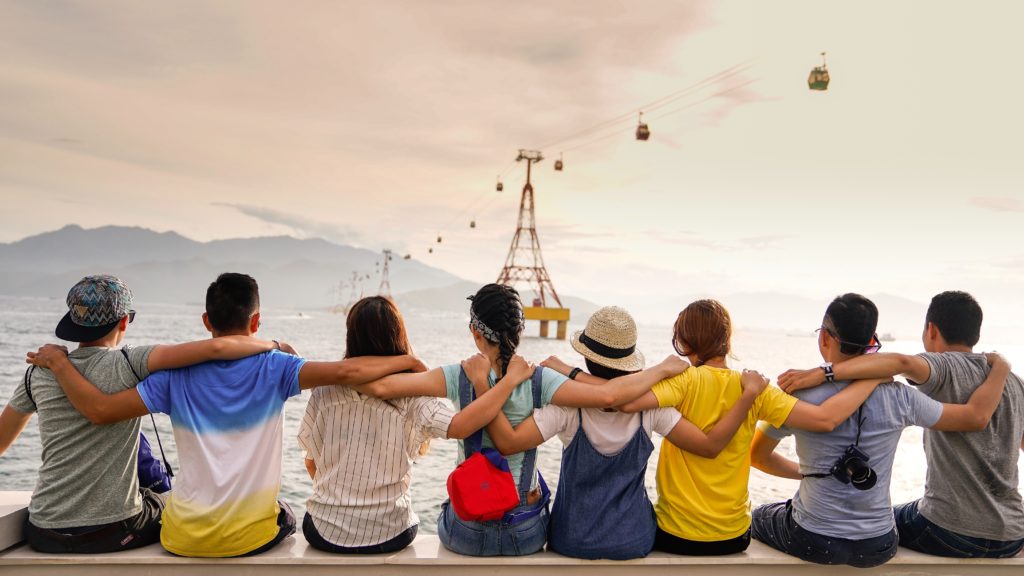 What would it look like if we as individuals and a church were perfectly devoted to fellowship? What would it be like if we were perfectly devoted to our shared participation in the Christian life? Compared to what we see now, what would be different? What if church relationships and endeavors always won the rock-paper-scissors contest of our schedules every week?
In the early church, Christians devoted themselves to fellowship (Acts 2:42). They devoted themselves to a shared participation in the Christian life, and it was an appealing lifestyle to a lonely, depressed world. As a result, "the Lord added to their number day by day those who were being saved" (Acts 2:47).
This kind of fellowship is a core value of the church. In fact, it is so central that the Lord commands it. He doesn't suggest or recommend fellowship – He commands it.
As we flip through the Bible today, hopefully it will stir in us a renewed devotion to fellowship. There are three things we'll see as we go:
Jesus is the Lord
We must obey Him
Jesus commands fellowship
Jesus Is the Lord
We all believe that Jesus is the Lord – that He has absolute divine authority over His people. This authority was what stood out about Him when He began His ministry on earth (Mark 1:27). And it's also the basis for the Great Commission. Jesus said:
"All authority in heaven and on earth has been given to me. Go therefore and make disciples of all nations, baptizing them in the name of the Father and of the Son and of the Holy Spirit, teaching them to observe all that I have commanded you. …"

– Matthew 28:18-20
Along those lines, the authority of Jesus was the foundation for the apostle's ministry. In Acts 1:2-4, it says that He "had given commands through the Holy Spirit" and "ordered them not to depart from Jerusalem."
"Commanded." "Ordered." We usually don't think of Jesus in terms of lordship and commands and orders. That's who He is, though. The problem is, many church people relate to Jesus as if He's only the Savior and not the Lord. They're happy to accept Him as the Savior of their sins, but not the Lord of their lives.
If we don't know Jesus as Savior
and

Lord, then we don't know Jesus at all.

Seeing Jesus as Lord doesn't mean you just have a high regard for Him. You can have a high regard for someone without seeing them as Lord. You can view Jesus as an inspirational figure, a great historical figure, a Counselor and a Comforter but not acknowledge Him as your Lord. Those are all false, incomplete gospels.

Being a good person doesn't mean you see Jesus as Lord, either. "Being good" is too general. Jesus gave us specific commands, and if we believe that He is Lord, we'll obey them.

This brings us to the second logical point.
We Must Obey the Lord Jesus
If we believe the Bible, we have to believe that Jesus is Lord. And if Jesus is both our Savior and Lord, then we must obey Him.
Obedience sounds uncomfortable, but God's Word teaches that "his commandments are not burdensome" (1 John 5:3). Even if we don't understand it, when Jesus commands something, we can be assured that it's good. It's how we're supposed to live.
What has Jesus commanded? Here are some examples:
avoid things like idols and fornication
embrace things like righteousness and true life
be glad and reconciled to other Christians
don't be hypocrites and heathens
beware of false teachers and empty philosophies
believe the gospel
repent of your sins
Jesus's commands are the basis and goal of the gospel. We're supposed to make disciples of all nations so that they will recognize His authority. Ephesians 2:8-10 says that "by grace you have been saved through faith" and we are "created in Christ Jesus for good works, which God prepared beforehand, that we should walk in them."
We can't obey our way into salvation. But, we can't be saved into anything other than obedience. In Christ, we've been given the Holy Spirit, new hearts and new minds – we're now able to live the way God designed us to live.
Jesus Commands Fellowship
Jesus is Lord, so we must obey Him. And Jesus has given us a lot of commands like these:
love one another

be devoted to one another
carry each other's burdens
forgive one another of any grievances
use your spiritual gifts to serve one another
All these "one another" commands require Christian fellowship. Our personal walk with Christ is important, but it must lead directly to a corporate walk with Him. What kind of personal walk with Christ is it if you ignore all these commands?
Jesus is the Lord. We must obey Him. And He has commanded fellowship. This fellowship is one of the richest blessings we have as Christians – it's one thing that sets us apart from the world. So let's devote ourselves to Christian fellowship and obedience to the Lord.
> You may also be interested in our "Church Membership" blog series. Specifically, this post.
Discussion Starters
What does it mean that Jesus is Lord?
What commands are Christians supposed to obey?
How do Jesus's commands require fellowship?
How can you be more devoted to fellowship this week?