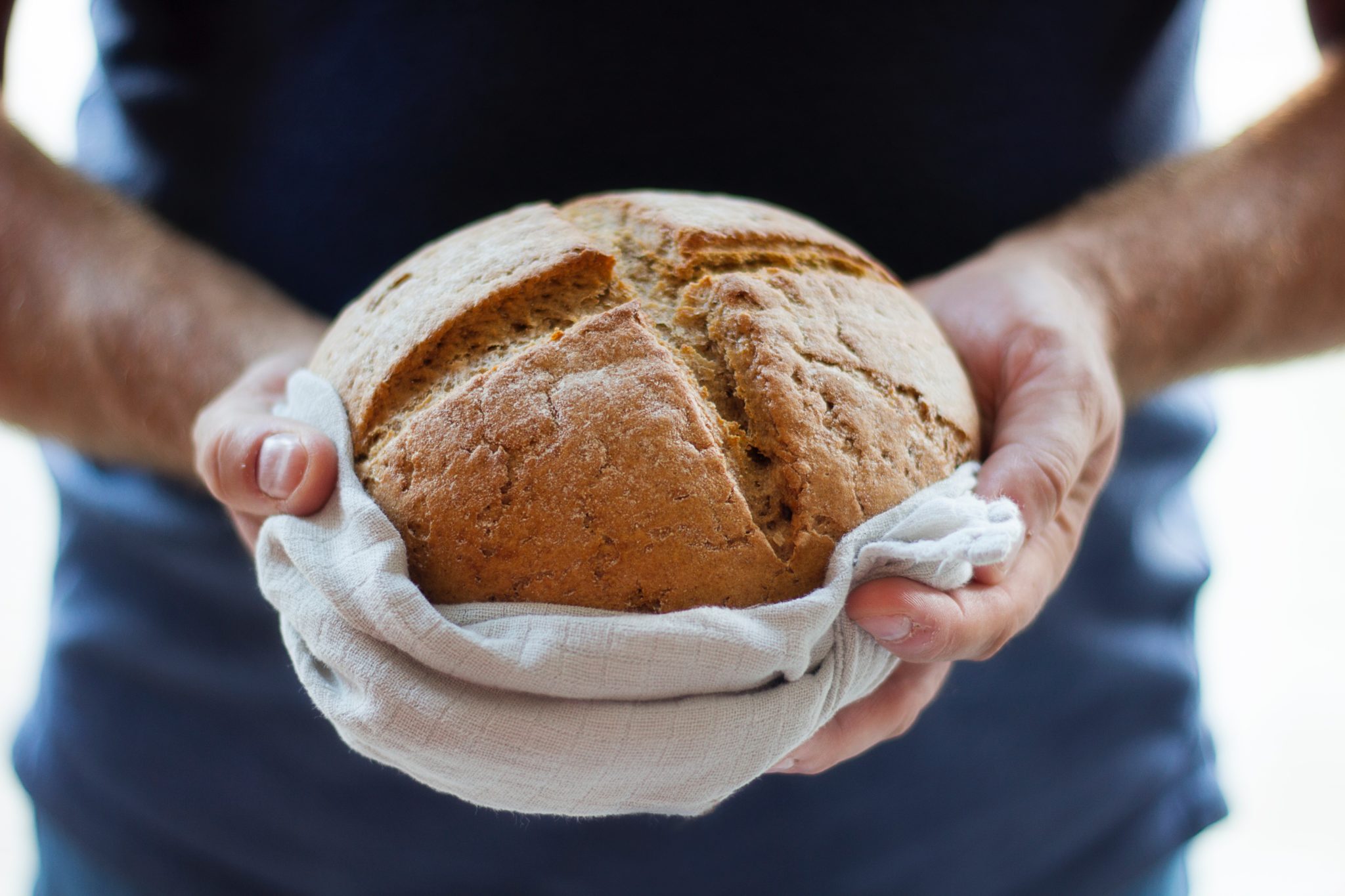 [This message was preached during our first communion service in a long while. It's not an exegetical look at the Genesis text, but rather a brief tour through scripture, leading us to the meaning of the bread and cup.]
9These are the generations of Noah. Noah was a righteous man, blameless in his generation. Noah walked with God. 10And Noah had three sons, Shem, Ham, and Japheth.
11Now the earth was corrupt in God's sight, and the earth was filled with violence. 12And God saw the earth, and behold, it was corrupt, for all flesh had corrupted their way on the earth. (Genesis 6:9-12)
Note the contrast between Noah and the rest of the world. Noah is righteous (innocent, just) and blameless (completely without blemish). But he's not just a goodie-two-shoes. He walks with God, which means his way of life is characterized by a close, ongoing, daily relationship with him.
The world, however, is corrupt, corrupt, corrupt. The word is repeated three times in two verses, depicting a worldwide state of utter spiritual and moral decay. The world is a dump; Noah is a lone flower.
Righteousness verses corruption. How are Christians to think about this contrast as we approach the Lord's table? Let's look at some New Testament passages together.
16"For God so loved the world that he gave his only Son, that whoever believes in him should not perish but have eternal life. 17For God did not send his Son into the world to condemn the world, but in order that the world might be saved through him. (John 3:16-17)
10And as Jesus reclined at table in the house, behold, many tax collectors and sinners came and were reclining with Jesus and his disciples. 11And when the Pharisees saw this, they said to his disciples, "Why does your teacher eat with tax collectors and sinners?" 12But when he heard it, he said, "Those who are well have no need of a physician, but those who are sick. 13Go and learn what this means: 'I desire mercy, and not sacrifice.' For I came not to call the righteous, but sinners." (Matthew 9:10-13)
6For while we were still weak, at the right time Christ died for the ungodly. 7For one will scarcely die for a righteous person—though perhaps for a good person one would dare even to die— 8but God shows his love for us in that while we were still sinners, Christ died for us. 9Since, therefore, we have now been justified by his blood, much more shall we be saved by him from the wrath of God. 10For if while we were enemies we were reconciled to God by the death of his Son, much more, now that we are reconciled, shall we be saved by his life. 11More than that, we also rejoice in God through our Lord Jesus Christ, through whom we have now received reconciliation. (Romans 5:6-11)
21And you, who once were alienated and hostile in mind, doing evil deeds, 22he has now reconciled in his body of flesh by his death, in order to present you holy and blameless and above reproach before him, 23if indeed you continue in the faith, stable and steadfast, not shifting from the hope of the gospel that you heard, which has been proclaimed in all creation under heaven, and of which I, Paul, became a minister. (Colossians 1:21-23)
In Noah, God pulled out the one righteous man from the corrupt world. In Jesus, God sent the One Righteous Man into the corrupt world. Looking at these passages we see that:
God loves the world
God sent Jesus into the world not to condemn it, but to save it
Jesus came not to call self-righteous people, but sinners willing to humble themselves and receive him as their Savior
Jesus died for us while we were weak, ungodly, and sinful enemies of God
Christians are those justified by Christ's blood
Jesus' physical death reconciles alienated, hostile, evil people to God, making them holy, blameless, and above reproach
Here's where communion comes in. We regularly remember Jesus' death on our behalf, represented by bread and drink, to make Colossians 1:23 true for ourselves. It helps us to continue in the faith, stable and steadfast. It helps us not shift from the hope of the gospel. Otherwise we would become like distracted drivers, swerving from the straight, narrow path of Jesus Christ. Communion restores our eyes to the road, keeping us safe, and on course.
Responding Together
Trusting and Following Jesus Together
Consider privately, is there any unrighteousness in your heart and life you need to confess? Any blemish? Any need for repentance? Take some time in prayer to confess your sins to God and embrace his forgiveness and cleansing through Jesus. Identify any people you need to ask for forgiveness. Don't wait, contact those people directly. What steps of repentance do you need to take? Share with your group what you feel would be appropriate so that they can pray for you and keep you accountable.
Discuss together, how does following Jesus make Christians stand out in our corrupt culture? In what ways do you see the Church tempted to be like the corrupt culture, rather than standing in righteous contrast? How can we guard against this?
Discuss together, have you been tempted or distracted away from centering your life on the gospel of Jesus Christ? How can your group pray for you and keep you accountable?
Loving God and People Together
Discuss as a group: On a scale from 1 to 10, how much would you say your way of life right now is characterized by close relationship with God? Why did you answer how you did?
Divide among the group the passages above and re-read them together. Identify and write down on a piece of paper or a whiteboard all the things you find in there that God does for us.
Pray together, thanking God for each of these things, and any other things that come to mind.
Discuss as a group: Do you regularly spend time with non-Christians like Jesus did?
Evangelizing and Making Disciples Together
Jesus came into the world to save people, not condemn them. He left us with the mission of evangelism. Have each member of the group prayerfully name one person you hope to share the gospel within the next week. Have each person in the group record the names on a slip of paper and commit to pray for gospel boldness and opened doors. Plan to share how things went when you meet next week.
Role play what sharing the gospel might look like with one or two of the people mentioned. How might you introduce the subject in conversation? How might they respond? What is the gospel? How might you verbalize it?
Pray together for the people on your list.
Dream together: What might our local church look like if these passages became fully operational in the hearts of all our members?