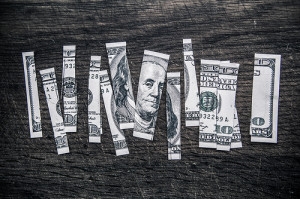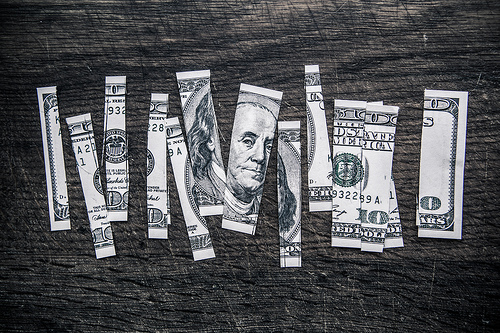 Do you know anyone untouched by financial fear? I doubt it. But if you're a Christian, be strengthened by this fact: You have nothing to fear.
Romans 8:32 says, "He who did not spare his own Son but gave him up for us all, how will he not also with him graciously give us all things?" Christians can rest in this promise. God cannot be stingy. Since he gave us his Son, we can trust that there is no good thing he would withhold from us, including provision for material needs within the church.
Indeed the church is a sanctuary from financial fear because Christians share with Christians. This is what we see in Acts 2:44-45.
42And they devoted themselves to the apostles' teaching and the fellowship, to the breaking of bread and the prayers.43And awe came upon every soul, and many wonders and signs were being done through the apostles. 44And all who believed were together and had all things in common. 45And they were selling their possessions and belongings and distributing the proceeds to all, as any had need. 46And day by day, attending the temple together and breaking bread in their homes, they received their food with glad and generous hearts, 47praising God and having favor with all the people. And the Lord added to their number day by day those who were being saved.
Acts is the only New Testament history book. It tells the story of the church's beginning. In Acts 2, we see them receive the Holy Spirit, empowering them for their mission to make disciples of all nations. Then we see Peter preach a powerful sermon and 3,000 people saved. Then we see a portrait of the newborn church.
Let's note three things about the church from verses 44 and 45.
They Were Together
"And all who believed were together." "And they devoted themselves to…the fellowship." "And day-by-day" they attended temple together and broke bread in their homes. One of the most prominent characteristics of the church is togetherness and it is out of this togetherness that we share with one another.
We cannot be the church without togetherness. We cannot be the body of Christ without the connecting ligaments of real relationships, welded together in the heat of shared time, challenges and triumphs.
As creatures made in God's image, we are designed for relationships. Sin distorted this aspect of our nature, causing us to hide from one another, distrust one another and hurt one another. As Jesus' redemptive work continues to restore us, we will:
Be devoted to one another (Rom. 12:10).
Give preference to one another (Rom. 12:10).
Be of the same mind toward one another (Rom. 12:16).
Accept one another by showing deference (Rom. 14:1–5; 15:7).
Esteem [highly regard] one another in love (Rom. 14:5; Phil. 2:3).
Build up one another (Rom. 14:19; 1 Thes. 5:11).
Counsel one another (Rom. 15:14).
Bear one another's sin burdens (Gal. 6:2).
Be gentle with one another (Eph. 4:2).
Be kind to one another so as to preserve unity (Eph. 4:32).
Speak truth to one another (Eph. 4:25; Col 3:9).
Submit to one another (Eph. 5:21).
Show compassion to one another (Col. 3:12).
Bear with the inherent sinfulness of one another (Col. 3:13).
Forgive one another (Col. 3:13).
Encourage one another (1 Thes. 5:11).
Live in peace with one another (1 Thes. 5:13).
Seek good for one another (1 Thes. 5:15).
Stimulate one another to spiritual growth (Heb. 10:24).
Encourage one another by faithful participation in your local church (Heb. 10:25).
Confess sins to one another (James 5:16).
Pray for one another's spiritual and physical healing (James 5:16).
Be long-suffering and patient toward one another (1 Peter 4:8; Eph. 4:2).
Be hospitable to one another without complaint (1 Peter 4:9).
Serve one another (1 Peter 4:10; Gal. 5:13).
Act in humility toward one another (1 Peter 5:5).
Show holy affection to one another (1 Peter 5:14).
Participate in the holy walk with one another (1 John 1:7).
Refuse to become resentful toward one another (1 John 3:11–12).
Give sacrificially to meet one another's needs (1 John 3:16–17).
The Identifying Mark of the Church
In John 13 we witness a night the disciples would not soon forget. Jesus washes their feet, an astoundingly humble act. Then he foretells that one of them would soon betray him, a shocking revelation. Then he informs them that he will soon be leaving, going somewhere they cannot follow. As he explains this, he gives them "a new commandment."
A new command I give to you, that you love one another: just as I have loved you, you also are to love one another. By this all people will know that you are my disciples, if you have love for one another. (John 13:34-35)
From the outsider's perspective, the most distinctly identifiable mark of the church is not the Bible in the dash of our trucks, our clean-cut appearances, or even our clean living; but the love we show to one another, the fellowship, the togetherness.
We can have world-class worship music and lighting, huge buildings, sharp logos, dynamic Bible preaching, full calendars of ministry work and still not resemble disciples of Jesus Christ unless we have visible love for one another.
Are we spending time together as brothers and sisters? Are we opening our lives to one another? When heartache hits, do we find that, in spite of our involvement in church activity, we are isolated and alone? Or do we find that we are secure in a strong network of Christian brothers and sisters? Do we view simple togetherness as an important characteristic of the church?
Christian Togetherness Provides the Context for Christian Sharing
The idea of having all things in common and selling your possessions to distribute the proceeds to those in need may make you nervous. You may fear being forced to give your hard earned money to strangers who will waste it foolishly. But Christian sharing is not giving money to strangers. It is sharing resources with people as close as or closer than family members, dear brothers and sisters that you know and love and share your life with.
Which is more natural, giving money to a stranger on the side of road; an acquaintance you see once a week at the gym; your brother, sister, son, daughter, father or mother?
Pursue Togetherness in Practical Ways
Plan to invite people over for lunch after church once a month.
Spend your lunch break with brothers and sisters who work nearby.
Go see movies together.
Linger in the lobby.
Have real conversations.
Ask real questions.
Give real answers.
Follow-up with calls, visits, cards, emails, FBs, dinner invites and coffee house chats.
If you're a part of a Sunday School class or a House to House group, absorb more people into the fold of your existing friendships.
If you're not, join a class or group this week!
They Prioritized People Over Property
…and they had all things in common. And they were selling their possessions and belongings and distributing the proceeds to all, as any had need.
Acts 4:32 puts it this way:
Now the full number of those who believed were of one heart and soul, and no one said that any of the things that belonged to him was his own, but they had everything in common.
Is this Christian communism?!? No it isn't. Communism is mandatory; Christian sharing is voluntary. Communism is a denial of property rights; Christian sharing is an invitation to use property rightly. Communism is government mandated; Christian sharing is Holy Spirit inspired. Communism is coerced from without; Christian sharing is cultivated from within. As Jesus' work continues to redevelop your heart, you will grow to prioritize people over property, relationship over ownership.
Take a mental walkthrough of your property. Picture your possessions (which in Acts 2 probably refer to properties such as your land, house or rental property). Take a quick mental inventory of your belongings (your car, technological devises, wardrobe, etc.). Is acquiring, protecting and maintaining these things a higher priority to you than serving your brothers and sisters within the church?
When you prioritize property over people, you will never have anyone over to your home until your home is perfect or unless you trust that they won't mess it up. You will spend enormous amounts of time nurturing your lawn and very little time nurturing relationships. You will keep a nice clean car that rarely seats more than yourself and your spouse and your kids. You will be consumed with anxiety about your finances and remain relatively unmoved by the plight of your brothers and sisters around you.
Finding Your Property
At this point you may be worried that God is calling you to miserable self sacrifice. That's not the case. He is calling you to true joy. Remember, Jesus taught that it is when you lose your life that you find it. This principle holds true regarding your property.
It is when you let go and use your money to worship, serve and make disciples that you find it. You find joy in your house, your new couch and your car proportionate to how much you use them for the right purposes.
Christian martyrs through the centuries have suffered the marks of whips and knives and the teeth of beasts for the joy of obedience to Christ. In suffering and death they found deeper life in Christ. We may be called to suffer the marks of diminished savings accounts, scuffed walls, coffee stained couches and dinged car doors for the joy of obedience to Christ in supplying one another's needs. And in the process we too will find deeper life in Christ in the process.
They Supplied One Another's Needs
Within the church, there will always be some with supply and some with need. As the gospel does its work in our hearts, those with supply will grow uncomfortable living in luxury while those with needs live in poverty. Supply will increasingly flow toward need.
Few things cause as much dispute among children as sharing. A child can lose all interest in a toy until their sibling picks it up to play with it. Then, suddenly, that toy is his most cherished possession. Yet parents know that the toy belongs to neither child. After all, who paid for it? Their parents did. Siblings must share their things because they live under the shared blessings of their parents. Christians share with Christians because they live under the shared blessings of their Father. He gave them the sufficiency to land the jobs to earn the money to buy the things and he expects them to share with one another.
Consider 1 John 3:16-17:
16By this we know love, that he laid down his life for us, and we ought to lay down our lives for the brothers. 17But if anyone has the world's goods and sees his brother in need, yet closes his heart against him, how does God's love abide in him?
When Jesus changes our hearts it effects many transformations within us. One of the most prominent is in the area of generosity. Something about receiving such a massive underserved gift as forgiveness of all our sins and adoption into God's family makes us want to be generous too. The gift of Christ turns people into Christ-like givers.
So I challenge you:
Be together.
Prioritize people over possessions.
Supply one another's needs.
How?
Here are seven ways to respond to this passage.
First, consider needs you're already aware of.
Second, share your resources. Do you have supply that corresponds with your brother or sister's needs? Has God given you an abundance that you should start giving regularly to your brothers and sisters? If so, make a plan of how you will give weekly or monthly or in one big lump sum to the Food Pantry or the Deacon Fund.
You can give to the Deacon Fund any Sunday; just mark your gift envelope "For the Deacon Fund." This is the pool of money the deacons use to help our people and people connected directly to our church with financial and material needs. They do not give cash. They pay bills, buy gas, oil, groceries, etc. Part of all Deacon Fund donations goes to Crisis Assistance Ministry.
Fourth, get involved with Crisis Assistance Ministry. You may wonder, "What about people in need who are not a part of our church or connected to our church?" For those needs we refer people to Crisis Assistance Ministry, which is an organization that started when several area pastors got together to fight the poverty in Charlotte in a discerning and wise way. 10% of what you give to the deacon's fund goes to CAM and we have monthly volunteer opportunities there. If you would like to volunteer, see Debbie Shuford or Lynn Carpenter.
Fifth, get informed and involved with alleviating poverty in the global church. Jeff Walsh would be a great resource here. You can sign up for his weekly World Outreach Prayer Network emails to get informed and you can give to Penny Crusade any time to supply for the needs of your brothers and sisters across the world.
Sixth, help make boxes for Operation Christmas Child. Contact Anita Jamison for more information. We're collecting donations now and will have a packing party on November 14.
Seventh, share Your Need. We cannot meet each others' needs if we don't know about them. I know this is hard, but it's an important part of fellowship.
Discussion Starters
In your experience as part of Dulin's Grove, are we "together" in a way similar to the church in Acts 2:42-47? Explain.
What challenges hinder our pursuit of togetherness? How can we begin to overcome them?
What are some practical ways you as an individual can pursue togetherness with your brothers and sisters? As a family? As a small group?
How does the end of verse 44 strike you? Does the idea of having "all things in common" make you uncomfortable? Why or why not?
What are some common reasons we are hesitant to share our time, property and possessions with other people, even Christians in our church? Are there any good reasons not to share? Are there any sins of the heart behind some of our hesitancy?
Brainstorm ways you can begin to use your possessions to serve people in the church (ex: open your home, loan your car, share the yield from your garden, etc.).
How does the gospel effect our disposition toward one another in regard to sharing our things?
Land on one specific step you will take this week in obedience to this passage and share it with the group.